Brigade of the American Revolution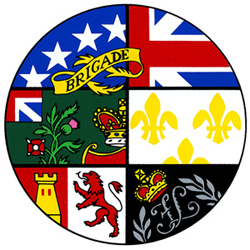 The Brigade of the American Revolution (BAR) was created in 1962 and is dedicated to recreating the life and times of the common soldier of the American War for Independence, 1775-1783. Members represent all those involved during this period: Continental Militia, British Loyalist, German, French, Spanish and Native American forces as well as civilian men, woman and children. The logo above contains representative flags from all military forces that fought in the Revolution.
I have been a member of the BAR's 1st New York Regiment since 1969 and have been fortunate to have that experience fuel my interest and love of history for 40 years. It explains why preserving Fort Hill in Peekskill was so important to me. It was a driving issue that caused me to seek public office in the first place. I am proud that in 2007 we accomplished the goal to save and declare the 40 acres of Fort Hill "Historic Parkland. "
Back in 1999, as a first year councilman, I was proud to help a local organization dedicated to the preservation of local historical landmarks, Friends of Historic Peekskill (now known as Historic Peekskill, Inc.) bring the BAR to Peekskill for a tremendous event called the Raid on Peekskill. The goal of the weekend-long event was to bring the issue of Fort Hill to the public and begin the effort to save the area from a planned housing development. We were successful in our goal and through persistence and support we were able to permanently preserve the Fort Hill area.
As part of my interest in promoting history (especially Peekskill's history) I enjoy visiting the local schools to give discussions and demonstrations on the Revolutionary War period and how it relates to Peekskill. I have also been invited to give presentations at the Peekskill Museum and Cortlandt Historical Society.
Photos of presentations given at Peekskill High School, Woodside Elementary School and the Peekskill Museum and also the dedication of Fort Hill (click to see larger view):